Two Crescent Anglers Named to 2023 Bassmaster High School All-American Team 🎣🎉
Crescent High School Seniors Kaleb Butts and Luke McGuffin are among only 12 high school anglers In the United States to be selected.
BIRMINGHAM, Ala. — Twelve of the top high school anglers in the country have been selected as new members of the notable Bassmaster High School All-American Fishing Team presented by Academy Sports + Outdoors.
"For nine years, the Bassmaster High School All-American program has identified and honored some of the most accomplished student anglers in the country," said Chase Anderson, B.A.S.S. CEO. "We've seen past members go on to decorated college fishing careers, compete in the Bassmaster Opens EQs and iconic Bassmaster Classic, and begin promising careers in the fishing industry. This group of 12 outstanding All-Americans is equally as talented and poised to do amazing things. We appreciate Academy Sports + Outdoors for partnering with B.A.S.S. to recognize these anglers' fishing skills and commitment to academics, conservation, and community service."
Over 300 applications nominating students in grades 10-12 were submitted from 33 states nationwide. Of these, 52 students were chosen as Bassmaster All-State anglers. After considering tournament resumes, conservation efforts, community service activities, and recommendations from school officials and coaches, a panel of judges from the sportfishing industry, media, and conservation groups further narrowed the field to the Top 12 high school anglers in the country.
Bassmaster Elite at Sabine River is scheduled for June 1-4 in Orange, Texas. Each All-American angler will be paired with an Elite Series pro for the one-day derby on a nearby fishery.
Photo Courtesy of Kristy Yates Photography
Kaleb Butts, Starr, S.C. - Kaleb Butts, a senior at Crescent High School, is enjoying a stellar 2022/2023 season, collecting seven wins, 10 Top 10s, and 10 Top 20 finishes. Among Butts' career highlights are four trips to the Bassmaster Junior Series and High School Series National Championships and a state championship at March's 2023 SCDNR Youth Bass Fishing Championship. Butts and his partner — fellow All-American Luke McGuffin — are well-positioned to qualify for the 2023 Strike King Bassmaster High School Championship presented by Academy Sports + Outdoors.
Butts is also a champion in the classroom — his 4.7 GPA has landed him a spot in the Top 10% of his graduating class, and scholarship offers at three different universities. Additionally, Butts is active in the community, volunteering for various jobs at fishing tournaments, including fish care and lake cleanups, assisting in habitat restoration efforts at Lake Hartwell, and working to feed homeless teens and families through his church.
According to his father, Butts has long dreamed and worked toward achieving All-American status. "Kaleb has dreamed of being selected for the Bassmaster High School All-American team since his older brother Jacob was selected for the Bassmaster South Carolina All-State team his senior year (2019) … Kaleb has continually taken the time to give back to the Crescent fishing team by taking younger anglers out on the lake and showing them how to be successful in tournament fishing as well as in the community."
Kaleb has signed with USC Union's Bass Fishing Team.
Photo Courtesy of Kristy Yates Photography
Luke McGuffin, Iva, S.C. - Luke McGuffin, a senior at Crescent High School, collected eight wins over the past year, including at the SCDNR Youth Bass Fishing Championship. Along with six Top 5 finishes and five Top 20s in youth tournaments, McGuffin has a third-place finish at an ABA Open on his resume.
"I have watched Luke McGuffin grow over his high school career as an angler and a person," said Marty Walker, Palmetto Boat Center High School Tournament Trail tournament director. "Luke presents himself very professionally at tournaments when fishing and even more so when he volunteers. His dedication to his tournament craft has grown him into a contender that everyone pays attention to when he weighs in."
Off the water, McGuffin has not only worked with refurbishing fish habitats in Lake Hartwell but also serves as a volunteer firefighter. As a volunteer firefighter, he has distributed backpacks and Christmas gifts to children in need and taught fire safety and awareness to elementary students. McGuffin dreams of qualifying for the Bassmaster Elite Series and will take the next step in his fishing career while competing for Erskine College.
Luke has signed with Erskine College's Bass Fishing Team.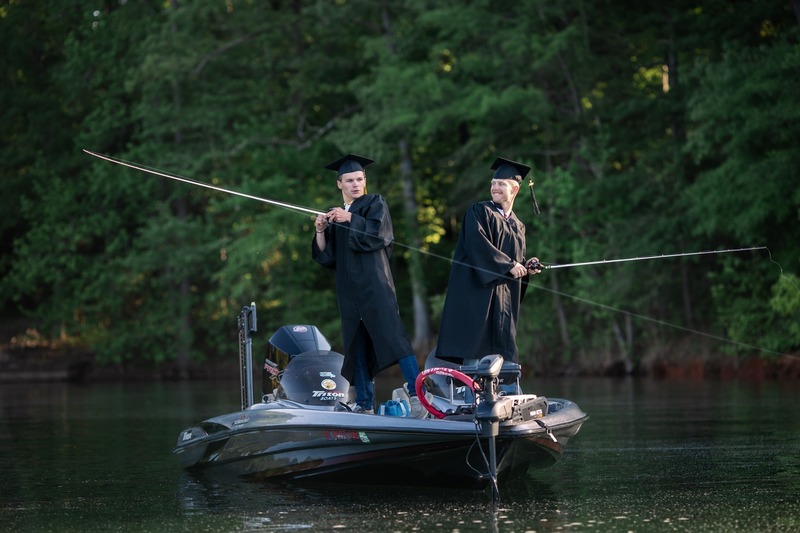 Photo Courtesy of Kristy Yates Photography

"Having two high school anglers chosen from the same state for the All-American team is rare. Having two anglers from the same high school that are also fishing partners, Is unheard of. This Is a testament to the hard work and dedication our anglers have put Into their craft." -Kathy Hipp, Anderson 3 Superintendent.
Kaleb and Luke will leave out the day after graduation to attend the 2023 Bassmaster High School All-American Tournament. More Information on the tournament can be found here: https://www.bassmaster.com/high-school/
Photos of both anglers can be found here: https://bit.ly/3WbPl6V
CONTACT:
Dylan McCullough
Chief Communications Officer
mcculloughd@acsd3.org / 864-348-6196