LIVE FEED

All students may drop off work today and tomorrow. The bins will be on the front porch until 12 noon on Friday. Parents/guardians of K4 through second grade students may drive through and pick up work today 4 - 6 pm. K4 through second grade packets have been uploaded to our website at sites.google.com/acsd3.org/elearningday.
8 days ago |
Christy Dodd

Parents, email me at doddc@acsd3.org, tell me who your children are, and I will send a custom digital book to your child or children. They will be characters in the book. I look forward to hearing from you. This is another way we can encourage our students to read.
8 days ago |
Christy Dodd

We're giving out K4 - 2nd grade materials and birthday pencils today!
view image
8 days ago |
Christy Dodd

Flat Rock Family, we will have a drop off/pick up day tomorrow, Thursday, April 2, at school. You may drop off completed work any time from 7:00 am on Thursday until 12 noon on Friday. Mr. Powell and I will be outside during the hours of 7 to 9 AM and 4 to 6 PM on Thursday for K4 through second grade families who need to pick up a paper copy of the new assignments. If you have Internet access and a printer at home, you may download the new assignments from our website at acsd3.org. Use the links to academics and eLearning. These assignments should begin on April 13. Fifteen extra assignments have been included in the packet in case the school closure is extended past April 30. Third through fifth graders will be able to access assignments on Google Classroom beginning April 13. Five days of assignments will be uploaded at a time. If you have any questions, please call us at 864-296-9191. We hope you have a great spring break!
9 days ago |
Christy Dodd
SEE ALL POSTS
NEWS
Mrs. Dodd shares the announcements for April 7, 2020.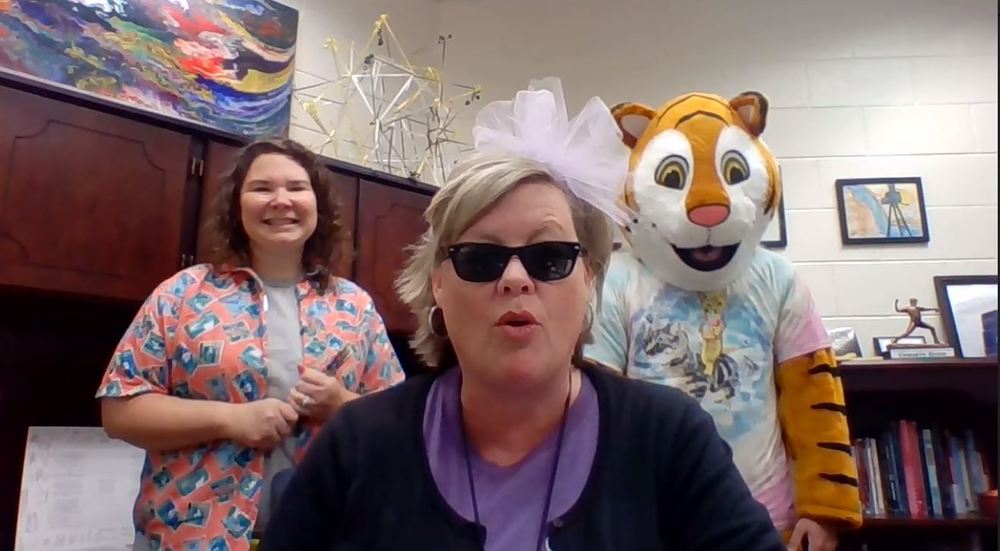 Mrs. Dodd, Mrs. Lollis and our Tiger Mascot share the morning announcements.
Mrs. Lollis shares the book The Boy Who Wouldn't Share by Mike Reiss.
SEE ALL NEWS
Events