TIGER SPORTS THIS WEEK!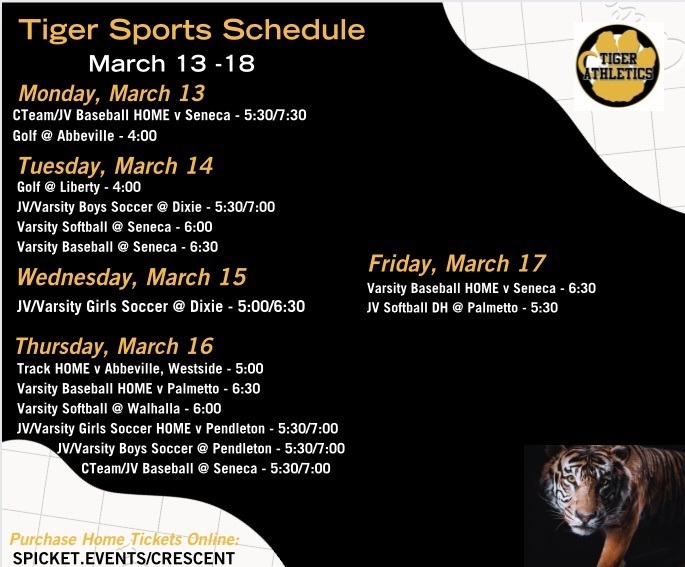 CONGRATULATIONS to Crescent Tiger Senior Steele Sears….North Greenville Crusader-bound for football!!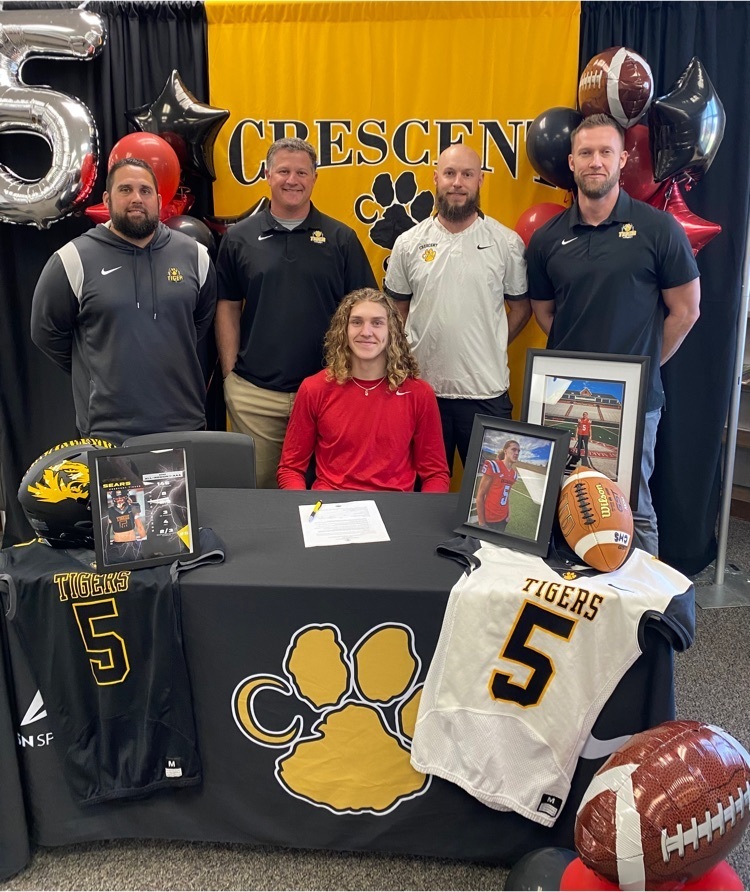 CONGRATULATIONS to Crescent Tiger Softball…..season-opening victory tonight over Westside on the road tonight!

CRESCENT VARSITY BOYS SOCCER with the home win Monday night over Abbeville! That win marks the FIRST career win for Head Coach Joseph Long! Way to get it done, Tiger Soccer! Photo creds to Amanda Merk Taylor…..she got to witness win number one!!

CRESCENT TIGER BASEBALL!! Gets the win on the road tonight at Westside. Way to do work, Tigers!!!

TIGER SPORTS THIS WEEK!

CONGRATULATIONS to Tiger Freshman JB Tripp: 3rd place overall - AAA State!! PROUD of JB & Coach Jordan Hawthorne, first state placer as a Head Coach!

GOOD LUCK to Tiger Wrestlers JB Tripp and Davido Sanchez as they compete for the AAA Individual State Championships at the Anderson Civic Center on Friday and Saturday! GO BE GREAT, JB, Davido, and coaches!!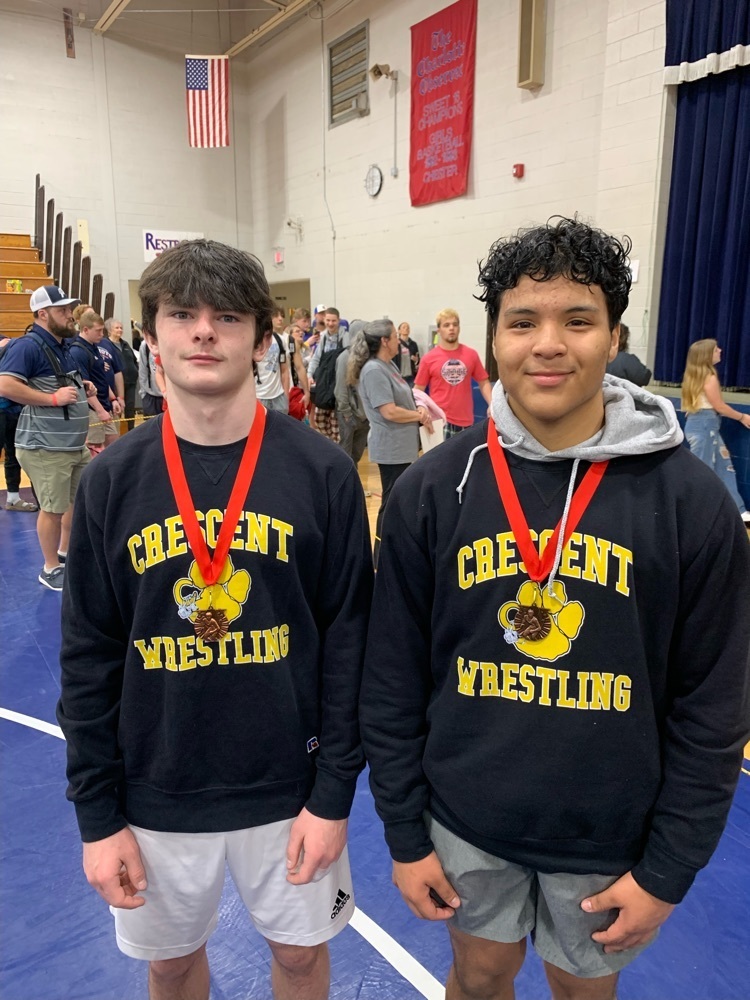 POSTSEASON BASKETBALL AWARDS!! CONGRATULATIONS to Crescent Tiger Basketball Senior Courtney Baldwin and Tiger Junior Jazel Parker! **Courtney Baldwin- Region I-AAA Player of the Year; AAA All-State; North South All Star; All-Region I-AAA **Jazel Parker - All-Region I-AAA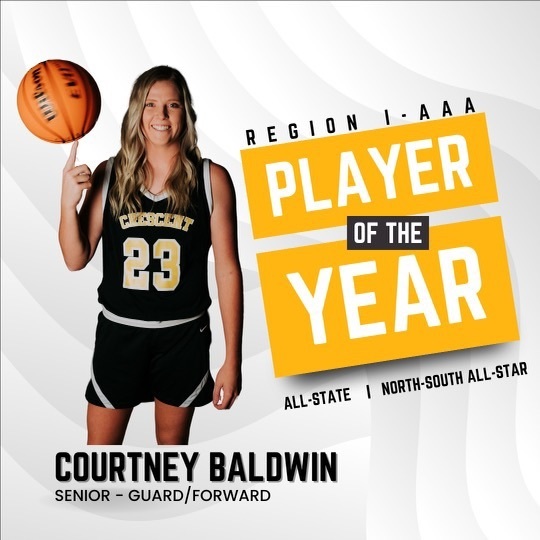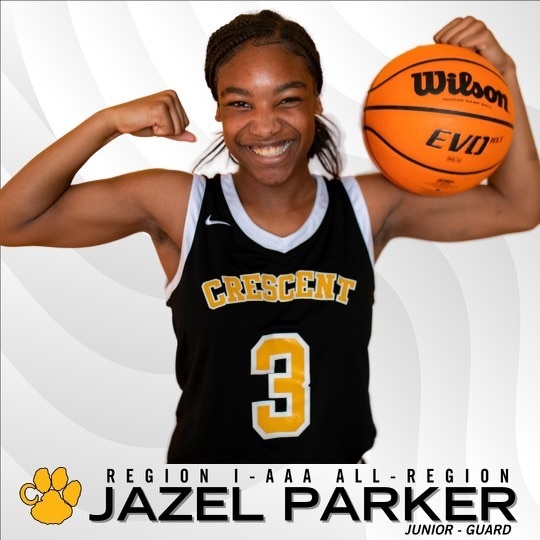 Tiger Sports this week!


Starr Athletic Association Sign-Ups are happening now. Please see the flyer below for more info! ⚾️🥎

TIGER SPORTS this week! Transitioning to spring and closing out winter, but still some HUGE contests to go! Varsity Girls Basketball travels to Daniel on Tuesday with a chance to clinch at least a share of the Region championship….make the trip and cheer on our Tigers!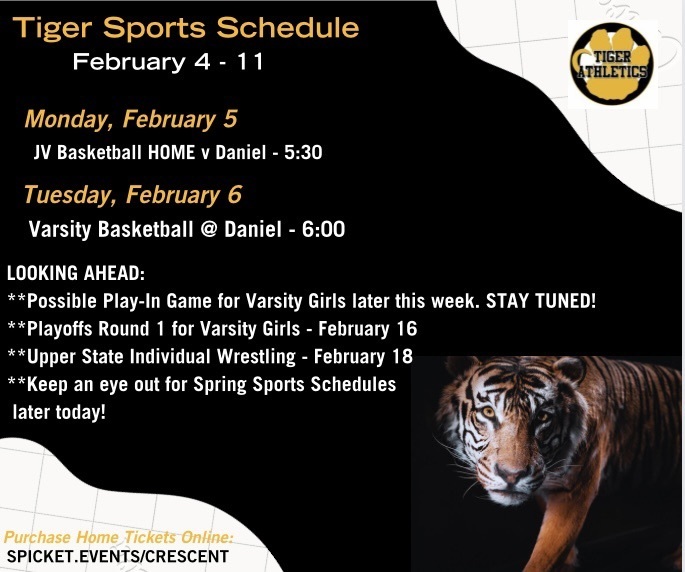 Crescent Varsity Girls Basketball with another WIN on the road at Pendleton tonight…..CONGRATS to our JV Girls as well! GO TIGERS!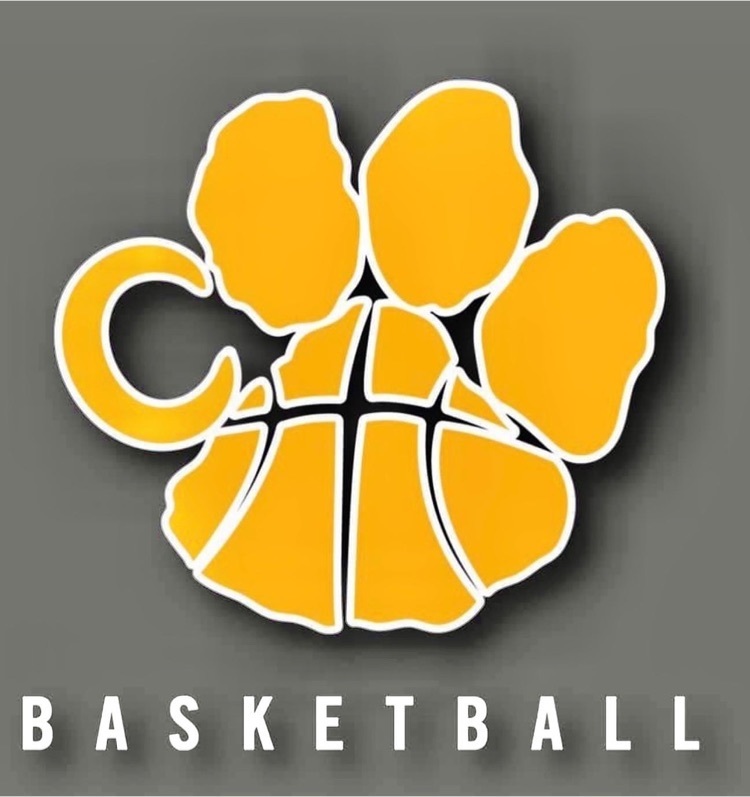 STRONG night for our Tiger Wrestlers! From Crescent High Wrestling Coach Jordan Hawthorne: Tonight we came down to West Oak for the Region 1-AAA tournament and had a great showing! Congrats to the crew on continuing to battle and fight and it showed tonight! We will be back Saturday for the first round of the playoffs at Travelers Rest at 12! Congratulations to these placers!!!: Kamrun Gentle - 1st Place Davido Sanchez - 1st Place Jayden Hicks - 2nd Place Brady Adams - 2nd Place JB Tripp - 2nd Place JT Burgess - 2nd Place Ely Elmore - 3rd Place Carter Gentle - 4th Place Landon Coe - 4th Place Peter Seltzer - 4th Place Matthew Howard - 4th Place Congrats to our JV placers!: Bryson Minyard - 1st Place Malaki Graydon - 1st Place Caleb Hannah - 3rd Place Kevin Hatten - 3rd Place LOTS of medals handed out to our middle school wrestlers as they wrapped up the season tonight! Working on getting names of all who placed, but TIGER PROUD of all those kids and coaches and the improvements they made this season!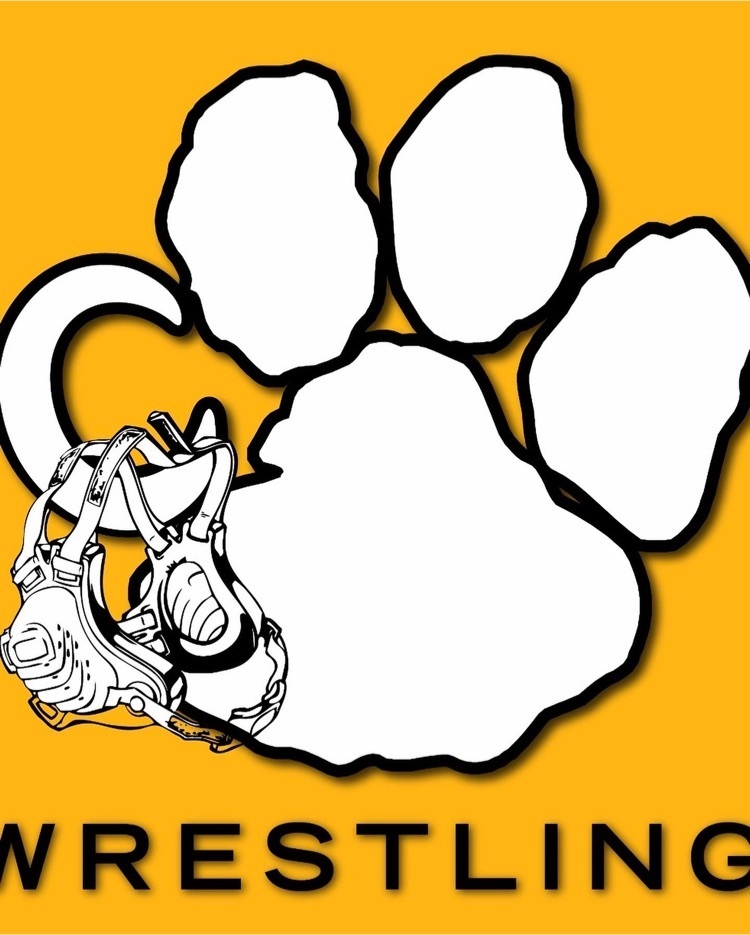 Starr-Iva Middle Girls Basketball gets the victory over Liberty tonight to win the CHAMPIONSHIP of the end-of-season AOP Tourney! Way to go Tigers!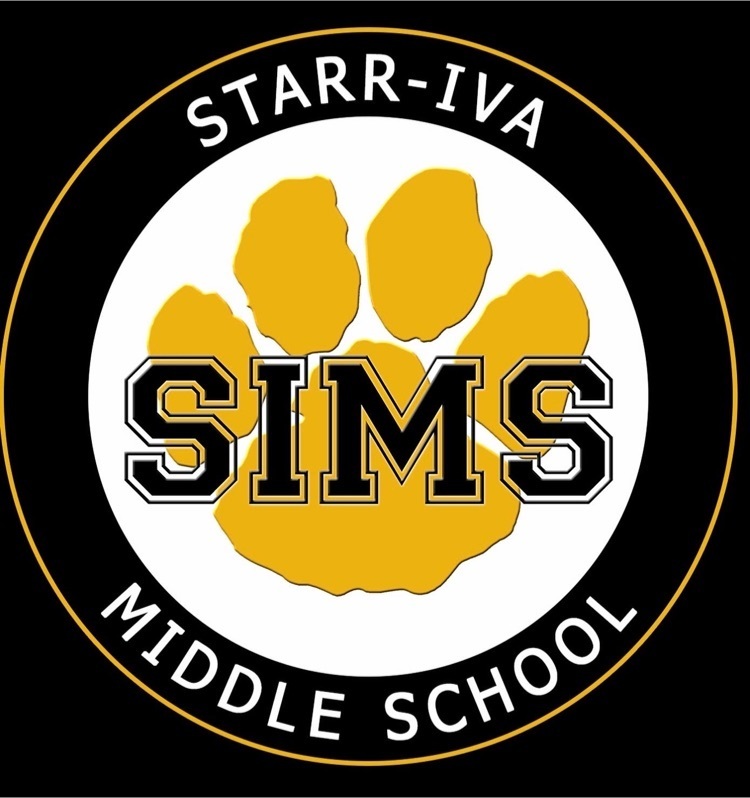 Tiger Sports this Week: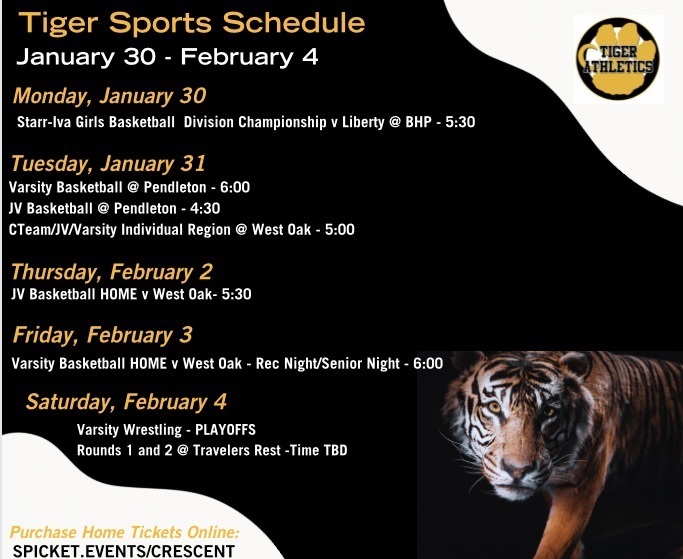 SIMS CTeam Wrestling travels to Chesnee today for the first-ever SCHSL sanctioned Middle School Wrestling Invitational. Tigers get a bye in the 1st round, win the semifinal match & come very close to defeating an undefeated team in the championship to finish as tourney RUNNER-UP!

Starr-Iva Girls Basketball gets the semifinal win in the end-of-year region basketball tourney this am vs Dacusville! Tigers will advance to face Liberty Middle in the CHAMPIONSHIP on Monday at BHP. Tip-off at 5:30. GOOD LUCK SIMS Tigers!

CRESCENT VARSITY GIRLS BASKETBALL! Gets ANOTHER OVERTIME home region win over Walhalla on Friday! SO PROUD of this group…..they keep hanging around and getting it DONE!! If you haven't been to see this group this year, why not? They just keep finding a way!